Effectively and legally eliminate taxes on the sale of real estate, businesses, and other capital assets
Challenge
Selling a high-value, low-basis asset means a substantial capital gains tax bill for your
client. They'll be looking at up to 23.8% on the appreciated amount federally, plus
heaven knows how many percent more in state tax. For owners selling a business, the tax
problem can be even more challenging. Sale of equipment, accounts receivables and
inventory, for example, are taxed as high as 39.6% federal plus state.
Solution
If the asset being sold is debt-free, a charitable trust can do something an individual can't
― eliminate the taxes. The owner can take advantage of a specially designed charitable
trust and receive these benefits:
Eliminates the capital gains taxes entirely
Receives added income tax savings
Receives five equal payments over a 4¼ year period approximately 98% tax-free
Benefits a charity of your choice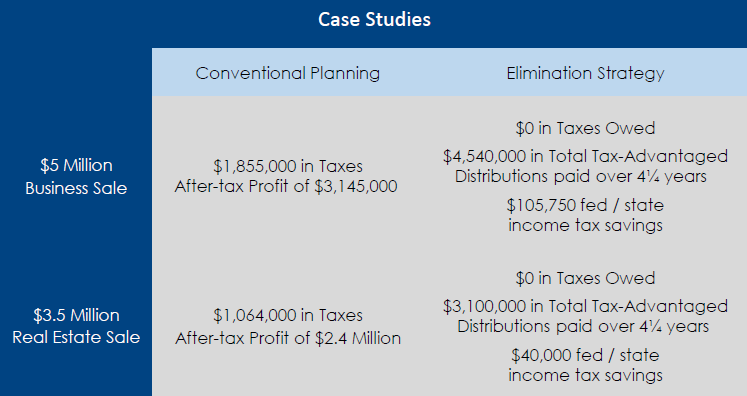 This planning approach is applicable to the sale of most any highly appreciated debt-free
asset, including:
Real estate – Commercial, Investment Property, Land – Even Principal Residences
C-Corporations and S-Corporations – including professional practices (Medical, Dental,
Chiropractor etc.)
Partnerships, Partner Buyouts, & LLC's
Privately held and Publicly held stock
Collectables – Art, auto, and antique collections
And many more…
Key Benefits
Capital gains and other taxes are eliminated
Seller receives tax-advantaged distributions over 4¼ years with all proceeds controlled
by the Seller.
Provides a true exit strategy and does not require the purchase of "like-kind"
replacement property like in a 1031 Exchange
Qualifications
Most capital assets with a selling price of $400,000 or more with no maximum
Sellers of appreciated assets who desire a true exit strategy
Any seller facing a substantial capital gains tax obligation at closing, depreciation
recapture on real estate or pre-payment of an installment debt
Sale of businesses including accounts receivables, inventory and equipment, and
depreciation recapture on equipment
IRS Codified
Available per Federal tax law since 1969