Welcome
What people say about us
Help us. Help others. You're invited to review:
Thanks for visiting!
Palm Beach Tax Group is able to help you with your Financial Planning.  Please enjoy the following as a token of thanks for being our customer.
Claim Offer "Free Tax Assessment"
(No review necessary.)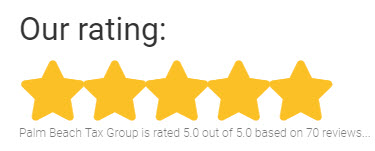 Recent reviews:
Roland is very pleasant to work with! Very knowledgeable!! I would recommend him to everyone!!!
Roland and his staff are timely, very friendly and thorough.
---
---
"The absolute and the only group I would ever trust to handle all by business and personal tax needs. They welcome you with open arms and give you a sense of relief that is priceless. -RK"